Discover more from Elly Says: Eat Oatmeal, Spread Love
A bi-weekly (because we queers can't do anything straight) newsletter about all of the things I'm grateful for: life's tiny joys like oatmeal, park picnics and friendship dinners and the small, wholesome things in life I try to focus on when I can
to let the smalls bigify, to be swaddled in selfhood
It's no small thing to endorse your own bones, to brew a small cup ahead of a big day, to make eye contact with the cat or bus driver or mirror...

"It's no small thing to endorse your own bones, to brew a small cup ahead of a big day, to make eye contact with the cat or bus driver or mirror, to prioritize a nap, to remember your heart is interstellar, to paint the cupboard, to show up at the gym, to let the smalls bigify."
It's no secret that I have been through Big Depression (only lightly related to Big Gay, Big Tobacco, etc. maybe twice removed or married to a cousin) in the last several months, and I am sorry to bring it up again, but I finally feel like I am on the upswing, and it's because I'm taking care of myself—something I thought I'd forgotten how to do. Last week I tweeted about feeling better, saying "it's no small thing" to characterize the massive shift in energy and aliveness I've felt after a long period of brain fog and lack of feelings about anything. Shira Erlichman, one of my favorite poets and currently my poetry instructor, responded with the above (and below).
I have started the new year by settings intentions—by holding myself to small standards that hammer me into the shape of something that feels more like myself, by doing the small things again and again until I feel the joy of them and it's no longer going through the motions. Waking up before 8 am every day (which used to be much, much easier for me). Using my bullet journal every day. Taking at least one walk per day and trying my best to get 10,000 steps (to make sure I'm outside enough if nothing else). Being in a month-long poetry workshop where I get a prompt each day and, even if I don't write a full poem or even something I like, I am writing for at least 10-30 minutes every day, no excuses. Holding myself to reading books again, which is something I've always loved but have fallen out of drive to do frequently enough in recent years. Writing in my gratitude journal every day, no matter what.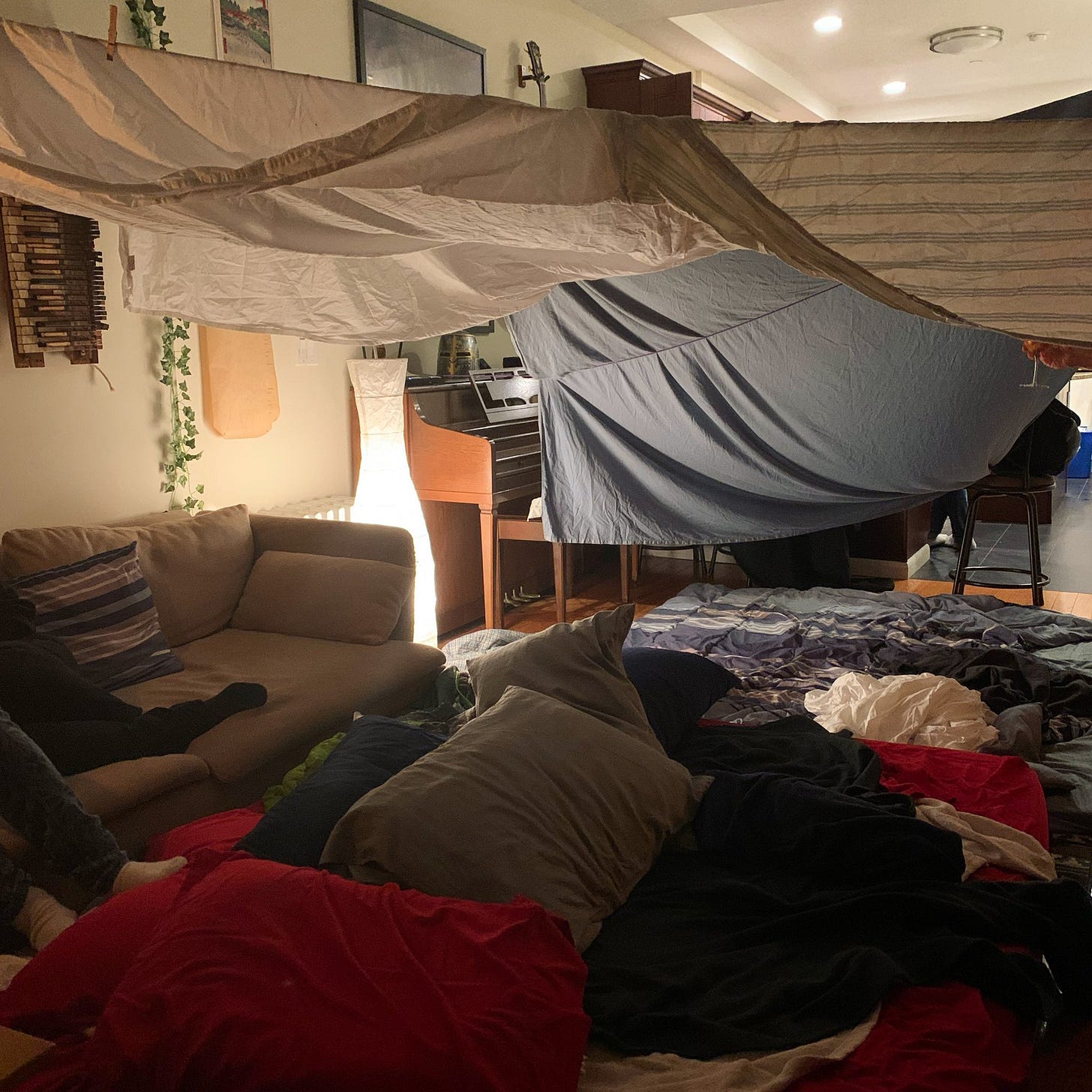 I started the year by having a sleepover with friends and building a blanket fort! A very small thing that bigified.
They have all felt like small things—they have all been the things that have been hardest to do during the recent period of brain fog and depression I'd been in, which felt like falling into a lake or a pool in all of my clothes and walking around soaked, the air freezing me into a human-shaped icicle of bad-brainness. So everything I've been doing recently has felt like moving a boulder. Having to trick my brain into even wanting to do things again—things I know I love when I'm feeling like myself. It's the vicious cycle of mental illness.
Drinking water and doing yoga and taking care of your body and eating foods that are good for you and going on runs and being outside and spending time with people you love and doing things you enjoy do help you feel more alive. Do keep you alive. But they are also the hardest things to do when you can't feel anything. When you are struck by numbness and joylessness.
I am reminded now, being in a clear headspace, where I have thoughts and feelings and desires, desires, desires, that to bigify the smalls takes discipline. It is not easy. And I can forgive myself for having had a hard time doing so. It takes practice. I will never be an expert. Neither will you.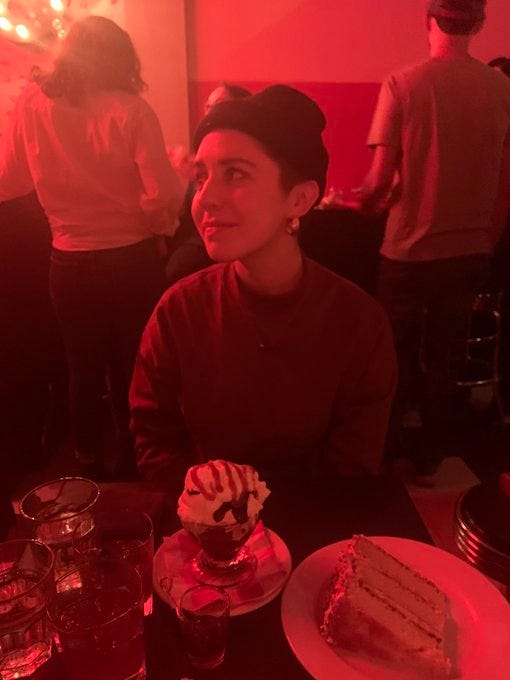 My good friend Han took me out for belated birthday dessert and drinks after the new year at one of my favorite small bars, where we shared a hot fudge sundae and birthday cake before we hopped to one of my favorite burger places down the street and I treated them to fries while we caught up on our respective holidays.
It is no small thing to feel completely alive and buzzing after a call with my poetry workshop. It is no small thing to get coffee with a friend and find that I have things to say about the world. It is no small thing to find that I do remember how to write poetry after all, after years of silence and self-stifling (it just takes practice). It is no small thing to enjoy the taste of coffee for the first time in months. It is no small thing to help friends host a Shabbat dinner and make vegan nachos and say a prayer to a flickering candle. It is no small thing to remember how to tell jokes again—to have a brain that has laughter, hidden somewhere, as an end goal. It is no small thing to devote the energy to finishing books, swallowing them whole after years of skimming. It is no small thing to find the simple ways we can take care of ourselves, and know that no matter how seemingly insignificant they feel, they matter.
To let the smalls bigify.
At the beginning of 2019, I had a list with very specific goals and resolutions—something I'd never done before. To my surprise, despite the hardships that the year pummeled at me, I checked off most of them. I somehow traveled to Nashville, Seattle, and Chicago. I began to relearn guitar and learn ukulele. I moved to a new apartment. I wrote for many new outlets, and got my first three print bylines in dream publications. I went on lots of self dates and recommitted to being okay with being single and learning what I needed from myself and not just another person. My word for the year was reclamation—and it was indeed a year marked by that in every sense.
I promised myself that this year would not be about any big, specific goals or resolutions. My word of the year is held/hold. Meaning I want to be held this year: by community, by someone I can fall asleep next to, whether it's a friend or something more, by loving places and spaces that feel like home. And I want to hold: myself accountable, others accountable, institutions and systems accountable, by friends and community I can give love and gratitude to.
All I am asking of myself this year is to learn how to be kinder and more patient with myself. To commit to discipline, which looks like showing up for myself—whether that's dedicating time every week to writing poetry, taking a class or workshop so I can grow, or doing things that feel very hard and make me want to collapse on the sidewalk like a toddler throwing a tantrum. To get back to poetry in no rigid circumstances—whatever that looks like for me; submitting to poetry journals, going to open mics, finding new writers I love.
To let the smalls bigify.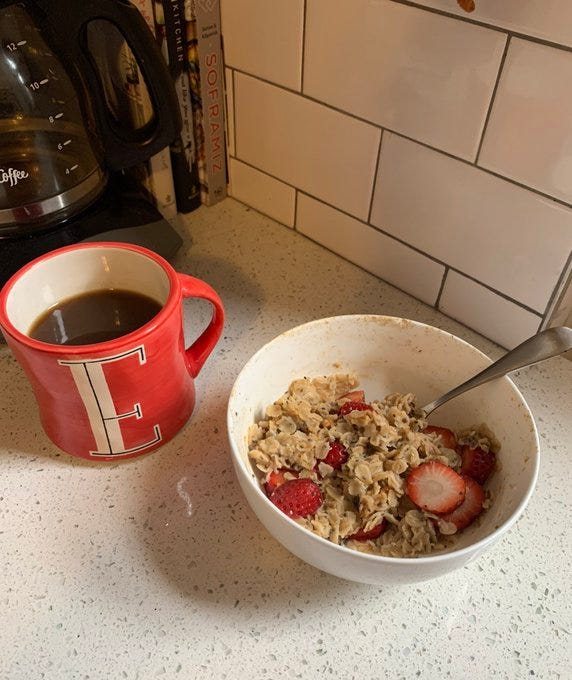 I started my year the right way, with oatmeal, of course. A small that certainly bigified!
Because it's no small thing to learn what tiny tasks, when cobbled together, make you feel like you're actually alive and hold you to being your best self. So what are your small things you do for yourself, ways you live your life that get you to the place where you feel like you can survive it? How can you commit yourself to them through ritual, through practice? And how can you give yourself permission to recognize that, at the end of the day, they are actually the big things?
Sincerely,
Elly

P.S. We are truly in the throes of Peak Oatmeal Season, friends! Two cozy oatmeal recipes to try if you have a hankering: banana, cranberry, pumpkin seed oatmeal (add a little cinnamon!) or chocolate cranberry oatmeal (just add dried cranberries and chocolate chips with some milk after you've cooked the oatmeal). The latter is what I ate nearly every day for breakfast in college and I still am so fond of it, especially as a treat.
(Yes, Elly can have little a sweet oatmeal, as a treat.)