Discover more from Elly Says: Eat Oatmeal, Spread Love
A bi-weekly (because we queers can't do anything straight) newsletter about all of the things I'm grateful for: life's tiny joys like oatmeal, park picnics and friendship dinners and the small, wholesome things in life I try to focus on when I can
patience over productivity, curiosity over content, generosity over rigidity
we internalize the idea that being constructive and being productive are the same thing. it's not true!

"When I write, that cannot be a place I feel small or wing-trimmed or wingless. It needs to be a place I feel possible and where I see possibility in being edited into a version that is more true to me." -Shira Erlichman
This entire month, I've been in an online poetry workshop called In Surreal Life. It's mainly consisted of receiving prompts every day, some phone calls, some back-and-forth critique and suggestion with members of my group via Google doc. And while the course doesn't necessarily require that I carve time out of my day to sit down and write, it's what I've been trying to do. I've felt very much like Not A Real Poet the last few years that I haven't had time to work on poetry. In high school and college I was writing constantly.
During a workshop call with Hanif Abdurraqib, I asked him a question about what his writing process is like, because I feel like I have none, and I'm trying to move away from inspiration-based writing and relying on the mood to strike. I asked if he had any routines or rituals to force himself into doing the actual work. I presupposed that sitting down and writing on a page is the only way to "do the actual work." Hanif reminded me that putting words on a page is merely the last step of writing. That to live your life and spend time with people you love and cook things and go on walks, to observe and consider how the leaves change colors in fall, all of that is writing if you think about it.
It's been a long time since I purposely set aside time to write creatively and fiercely guarded it. I've felt guilty about that. I've been out of practice, and there's an innate feeling of I Can't Do This. But the poetry workshop has helped to reintroduce accountability and discipline into my life in a way I've really needed and with a new framing.
I've been reminded that poetry, like anything you're dedicating your time to, is about the practice of sitting down and getting words onto a page. Sometimes. But talking with different writers I greatly admire throughout the course, like Eve E. Ewing and Hanif, I've also been reminded there are so many ways to approach creating, and that it's okay if I can't do it every day or even most of the time. That I don't have to have pen to paper or be putting words onto a page for 10,000 hours to actually be writing.
Echoing the exact thing that Hanif reminded me recently is this piece from Drew Magary, who writes about how the most productive writers understand, like Hanif said, that writing is about much more than sitting down and producing.
"Writing is seeing, writing is listening, writing is thinking, writing is living."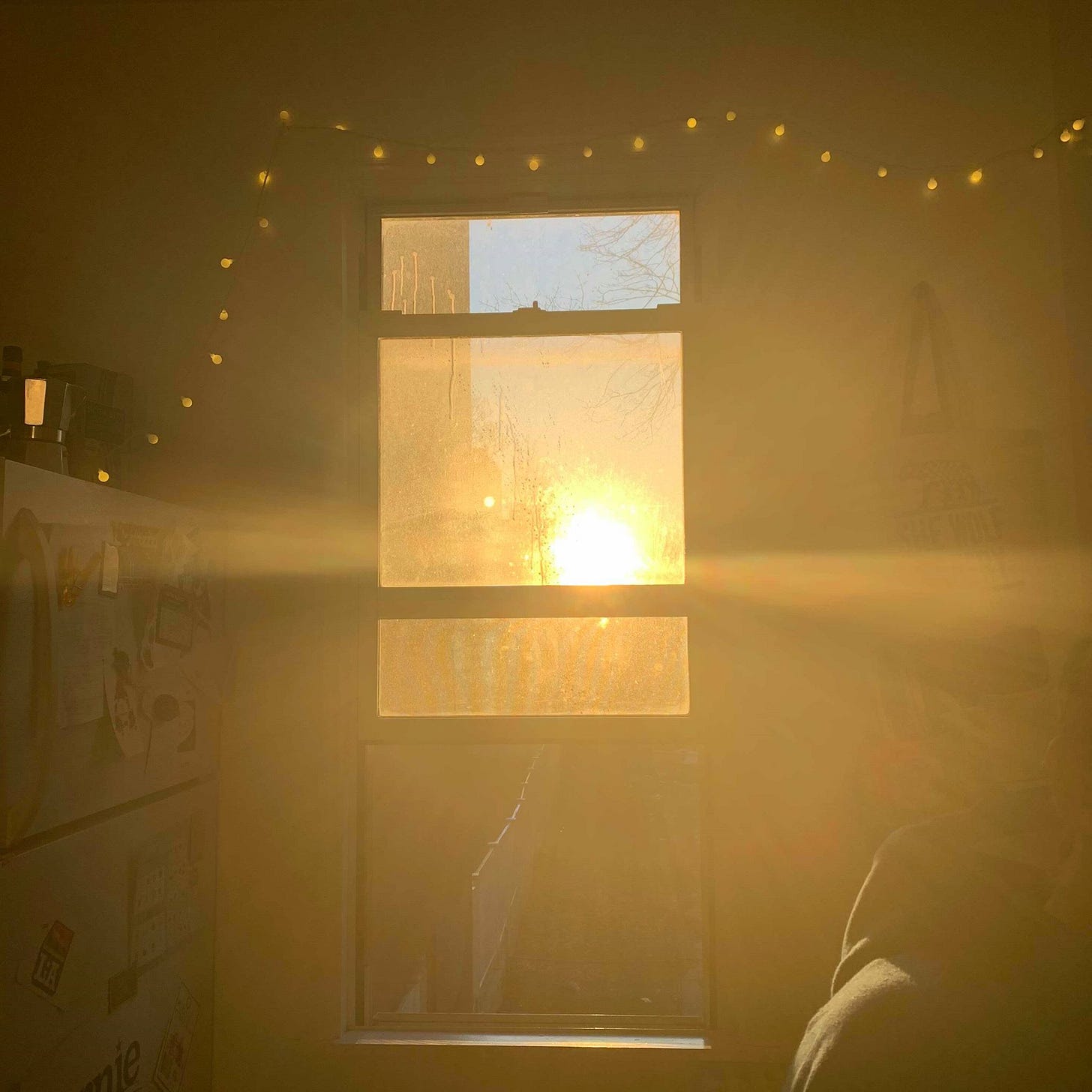 Writing is basking in the glow of the sun coming through my friend's kitchen window in the morning before I am awake enough to have words.

And taking this month working on my writing through the workshop, and re-approaching something I love to do through this frame has reminded me, simply, to participate in life.
It's reminding me that any thing you want to get out of you is going to take patience. It's going to take seeing. Listening. Thinking. Living.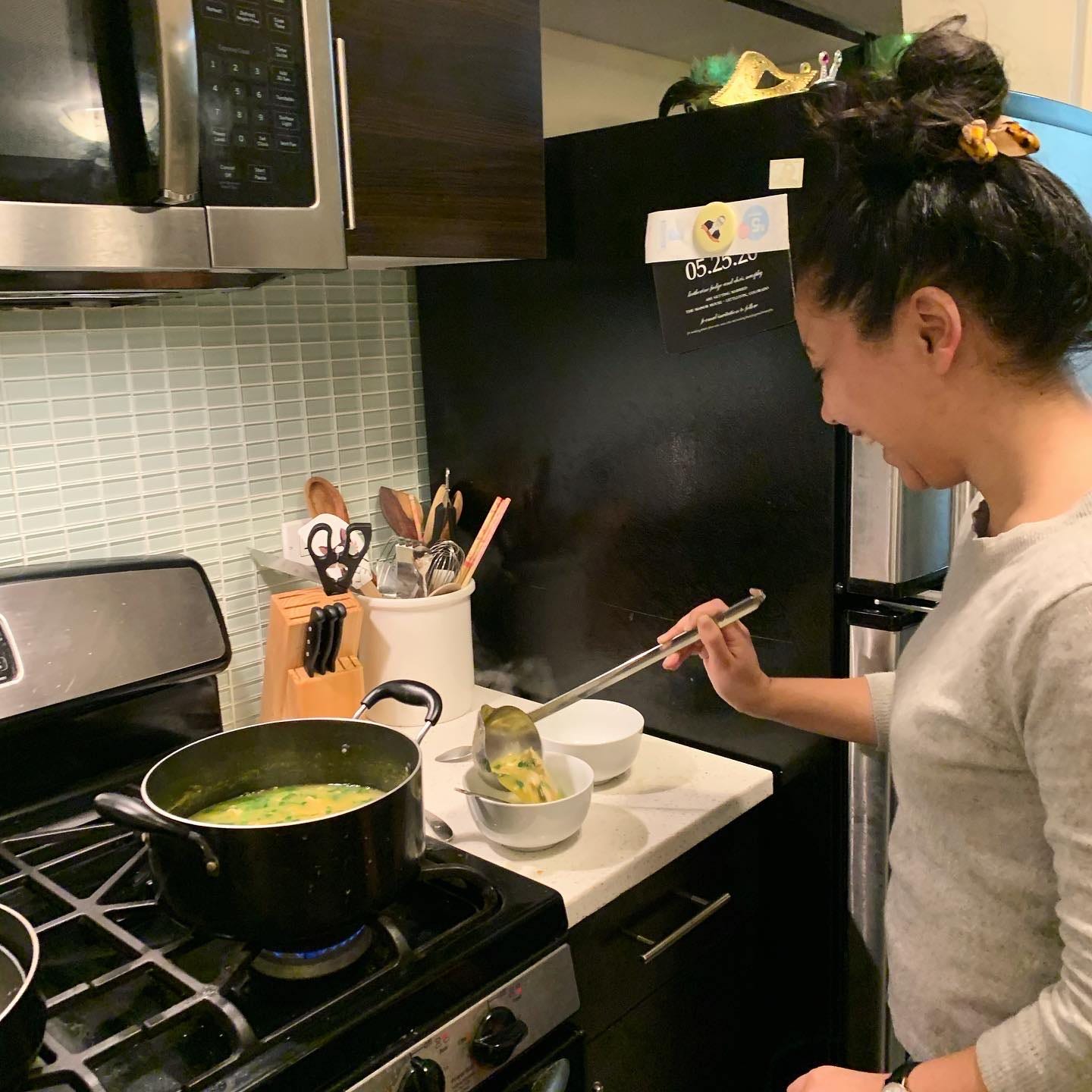 Making soup with my friend Caitlin on a cold snowy night is poetry!
We are limited in how much creative energy and output we have, shouldn't that mean that I give myself unlimited kindness and wiggle room to be a human being and not just a writer constantly working to perfect craft and churn out content?
As much as accountability and discipline is about doing something constructive, it's not necessarily about producing anything. In a world where, under capitalism, we are always measuring ourselves by how much we can produce—by how much we can give to our friends or loved ones, how many words we can get out in one writing session, how many miles we can run, how many people show up to our party, how many awards or accolades we have to show for the things we've done. 
But what if we stopped counting? What if we recognized that what being accountable looks like most often is simply showing up for ourselves? Recommitting to poetry has reminded me that being disciplined can't actually be about constricting myself to rigid rules about how much I should write or when I should write, or if writing a fragment of a poem or an idea counts as having written on any given day. Making time for doing what you love and makes you feel alive, even if it requires scheduling or immense focus, cannot be about boxing yourself in.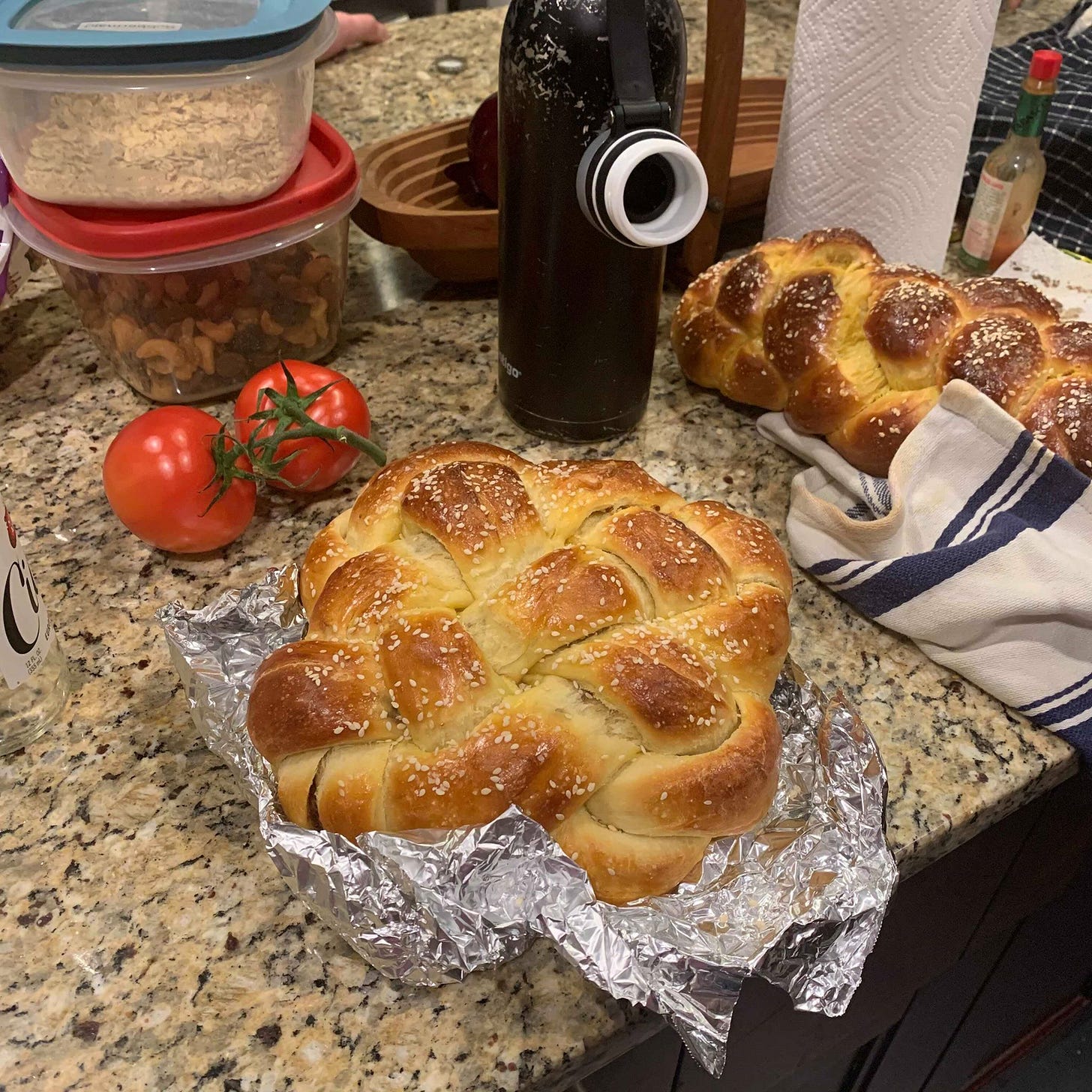 Hosting a Shabbat dinner with friends is poetry, too.
To write, or practice any hobby or craft for yourself, is all about curiosity. It's about letting yourself live in something long enough that you are asking questions and exploring. It is about not having THE answers. It is knowing there are no THE answers.
My writing workshop has reminded me that joy doesn't come from rigidity. Not from rules. Instead, from rituals. Rituals ask us to know what works for us and to be curious, constantly coming back to them—to be generous in allowing ourselves time to practice them the way it works for us. Immense generosity from yourself to occupy a space or idea however you need to in that moment.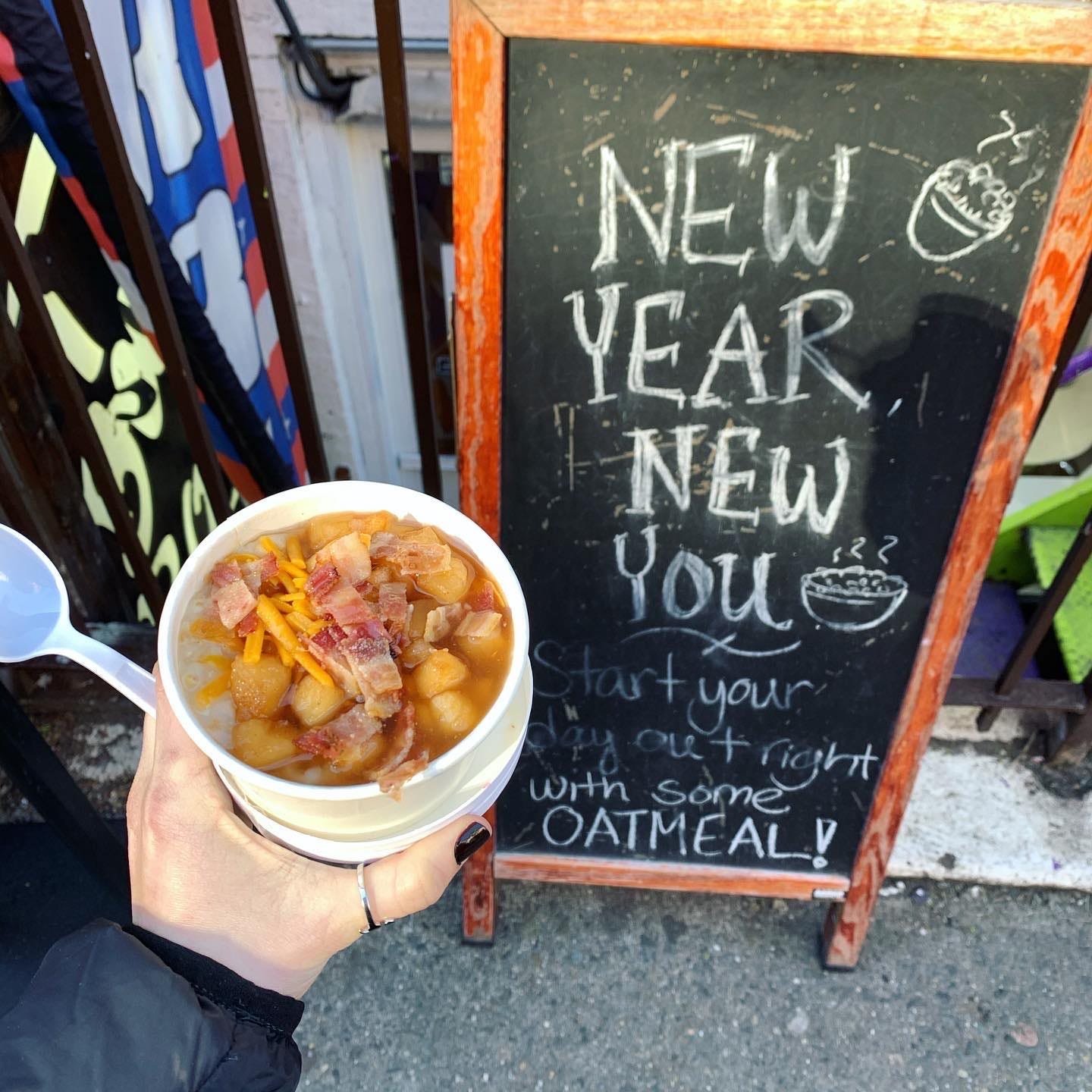 You knew we were getting here. Oatmeal is definitely, definitely poetry.
Being generous with ourselves takes practice and vulnerability. We were born with it but it's been yanked out of us, and we've been conditioned to measure ourselves by what we can cut or what lines we can draw. I want to stop measuring myself by how much I can make and instead by how much space I can give myself to be curious.
Hanif reminded me that the only person I'm actually racing against is myself. Besides external factors like the inevitability of climate change and natural disasters, all we're competing with is ourselves. Your curiosity cannot be a stopwatch. Your passion cannot be told that you must write or read or bike or whatever it is you love doing every day for one hour and one hour only. It doesn't work like that.
I am trying to return to the roots of what I've always known, which is what's scrawled as a tattoo on my rib cage—poiesis. The root of poetry. The concept from Greek philosophy, meaning bringing something into being that did not exist before—to make. To be in the process of. And as corny as it sounds, to make anything, to build a life, to bring anything into being takes a long time. That requires gentleness with oneself.
But if it's true what Hanif said, which I believe it is, it is very possible to create without caging myself in order to complete something and needing to check it off a to do list. It is possible to get back to treating living life as doing the writing. To make risotto. To bake bread. To be involved in being alive. And in turn, having stories to tell. Not so I can have something to show the world and say "look at what I know" — instead, so I can feel excited about writing and showing the world "look at what I love." That is why I started this newsletter in the first place. To document who and what I love, what brings me joy, put it into a form that someone else can witness and share it in a way that helps other people realize what they love.
Writing is rambling and fumbling and wandering into a light bulb over your head in a way that makes it possible to share that light with someone else. To document or to create something to experience it, to make sense of, not to arrive at a finished poem or the perfect loaf or a product you've made and can wave around. Poiesis.
I want to write and edit myself into a better version of myself. To feel expansive. Not pigeonholed. Not made smaller. To feel like I am opening instead of closing. So I am trying to learn how to write again without caging myself. I am a bird flying south for winter on instinct. I am a velvet romper that caresses all the right places on my skin. When I edit myself generously, when I give myself the freedom to speak until I have stumbled through the world in a way that feels true, I feel my chest rearrange itself to let the world on my back feel lighter.
So today, dear readers, my question for you is this: What do you do that makes you feel like you're expanding? What's something in your life that makes you feel curious? Generous with yourself? How do you make space for yourself? And if you're not already, how might you begin?
Sincerely,
Elly